Are you looking for any lightweight, easily foldable chair for camps and beaches? You need to know about the Sitpack, an online store for premium quality chairs and stools. It has a wide selection of affordable and foldable chairs with various features.
Click Here To Visit Sitpack
Sitpack provides a huge variety of foldable compact chairs with high and ergonomic seats. It has a wide collection of the latest model chairs perfectly designed for gatherings, camping, beach, and other outdoor activities. All the chairs and stools are made from high-quality materials for complete comfort. More details about the foldable chairs will be available in this article.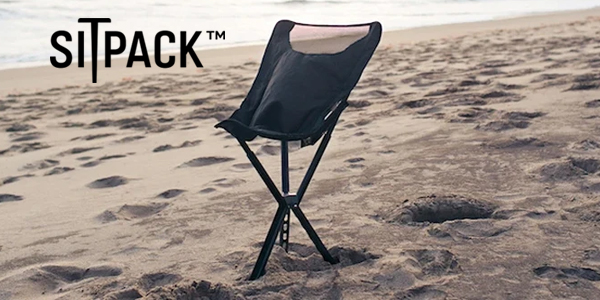 Why choose Sitpack?
If you think why to choose Sitpack over other foldable chairs providers, then one of the reasons is that it has a sleek design, and the chairs can be easily folded into easy-to-carry containers without any hassles. It has one of the world's most compact and foldable seats for ultimate comfort and relaxation.
Products at Sitpack
Sitpack provides a huge variety of sitting accessories with easy to fold and carry compatibility
Campster – Portable Chair
Sitpack computer portable chairs are easy to use and carry anywhere anytime. This three-leg chair gives better comfort and stability. It is one of the best portable equipment for hiking, camping, beaches, BBQ, festivals, and many more.
Sitpack zen – Portable Stool
Sitpack zen is a one-legged stool designed to correct posture. It is one of the lightest and advanced portable relaxing seats made from matte black carbon tubes. This stool is easy to carry and quick to open in any situation.
Sitpack 2.0 – Portable Folding Stool
Sitpack 2.0 is one of the most compact and functional portable stools designed to correct posture. This height-adjustable camping stool is one of the best seats to relax and maintain proper posture.
Sitpack 2.0 bundle
The Sitpack collapsible stool bundle includes:
One Sitpack 2.0 portable folding stool.
Neoprene 2-in-1 carrying case and seat cover.
Two extra stoppers.
It is an all one tool for all sitting needs.
Pricing at Sitpack
Sitpack offers a huge variety of the latest portable folding chairs and stools at affordable and discounted prices. Sitpack 2.0 bundle collapsible stool is available at €49. Sitpack 2.0 portable folding stool's original price was €47, and the discounted price is €35.
Sitpack zen portable stool price starts from €69. 2-in1 carrying cover is available at just €13, and groundsheet is available at the discounted price of €9. Campster portable chair, including a carrying bag original price, was €175, and the discounted price is €79. The insulated 0.5-liter holder is at an offer price of €9.
Conclusion
Sitpack is an online store that provides high-quality portable chairs and stools at reasonable prices. It has a wide collection of foldable compact sitting chairs and stools for hiking, beaches, camping, gatherings, festivals, and more. All the products are made from fine quality materials for the complete safety and comfort of the user. These chairs do not change the posture of the body while sitting.