Pixelsurplus creates leading-edge designs and fonts for professionals. They have collected 29 handcrafted scripts fonts for January. These fonts are perfect for all modern designing needs.
Click Here To Visit Pixel Surplus
You can save almost $500 off on retail price. In this giant packs, you can get access to 58 total fonts including lots of alternatives, swashes, weights like textures and Illustrations. The growing selection of free design goods was updated every week.
Why Pixel Surplus?
You can find exclusive design freebies which are already a part of the pixel surplus community. These products are used by Billboard, Raiders, Miami Heat, Society6, Cineplex and so on.
Featured Fonts
The featured fonts such as Buckwheat- Free Handpainted SVG, Nature Spirit-Free vintage sans serif font and Rustico- Free bold brush font. A buckwheat SVG font is created by Tom chalky. These fonts wear completely hand-painted with high-quality textures. You would feel like real paint by enhancing the overall effect. This types of fonts required Photoshop CC 2017 or Illustrator CC 2018. Regular OTF font works universally.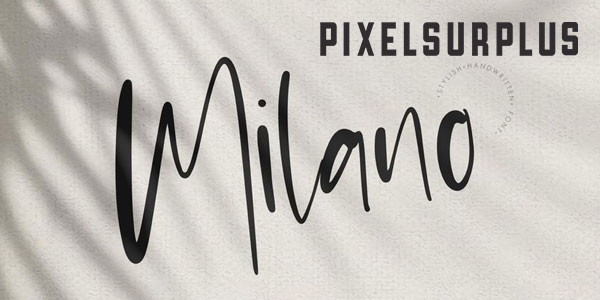 Nature spirit is a vintage style font by Alex organic. It consists of two versions Clean & Rough. These types of fonts have retro styling by featuring tons of characters for creating a custom type. Nature spirit fonts are perfect for Logo & Label design, Vintage branding, Apparel, and  Lockups. This Rustico font is a new free font from Hustle supply co. These types of fonts are all-caps typeface which is bold. It features brush texture with an italicized stance. Rustico font is great for making statements in Apparel, Marketing, Branding, and Web designing. 

Free Fonts
These free fonts are classified into 18 different types such as Rustelyn free casual handwritten font, Desciso free sans-serif font family, Meredith free fantasy display font, Jane AustinAnimosa free display font family, Nimitz free all caps retro font, Tomato soup free trendy script font, Specta free retro-style script font, Socham free modern calligraphy script, Library 3Am free outline display font, Escucha Consuela free stylish & modern font duo, Bondi free all-caps display font, Bitter rose free brush font textures, Fontuna stencil, Halfomania free futuristic sans serif, Khepri free modern Egyptian typeface, Arkipelago free inky brush script and Borsok free bold display font.
Graphics
Graphics were classified into 14 types like Free mini botanical illustration set, 70 Multipurpose vector icons, Perfection of simplicity free patterns & Designs, 5 free beautiful & unique flora wreaths, 4 free star patterns, Cactus paradise free vector set, Wild garden free botanical alphabet, Lillia free floral illustration sample, Free folklore watercolour set, My little patterns sample pack, permanent marker designers's kit, Vintage badge kit, Autumn harvest and Vibrant wildflowers.

Textures
These textures design make your graphics stand out in the crowd. Textures help to make your own products such as website, Illustration, Social media, Templates, Invitations, Posters, Logos, Graphics, business cards, blog buttons, and other projects. This pack includes 8 textures. This is perfect for fashion bloggers, Beauty bloggers, Lifestyle bloggers, Fashion companies and small size businesses.
Templates 
The creative representation which is beautifully designed and crafted. This kind of template was so versatile that it can be used in different business creative projects. The presentation can be used for food review, New business, Food marketing, and food promotions.
Conclusion
Pixelsurplus provides varies types of fonts, graphics, Textures, Templates, Mockups, Add-ons and Procreate which are required for website or blogs.