Are you willing to buy wellness products for daily use? Then you should go for Landish. Landish will be the smart choice for the smartest food products to choose from every day.
Landish offered products are Nutritious and provide health benefits. The ingredients are sourced very carefully from trustworthy suppliers. This company minimizes GHG emissions and the use of resources. All the products are lab-tested to ensure quality and safety. The company has provided functional benefits effectiveness of products on the suppressed immune system, fight inflammation, fatigue, unhealthy gut, and other ailments with effective formulas. The ingredients are passed through a process of creation, research, and iteration. The products are available for the diets such as Vegan, Keto, Omnivore, dairy-free, and gluten-free. In this review, you will get more information about the products and pricing.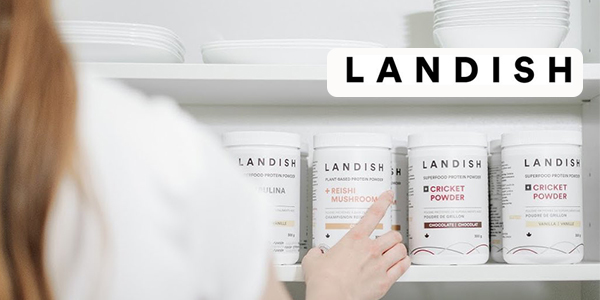 Why Landish?
Landish also sells Allergy-Friendly products and provides Free shipping on orders over $59. This company plants a tree for every order. The customer can subscribe to them and save 20% on the products. To get discounts and offers, use the Landish discount code.
Products Of Landish
Landish offers products with Rich-Nutrients health benefits. Here are some of them,
North Atlantic Marine Landish Collagen – It is sourced from Nova Scotia, located in Canada. It does not contain a fishy smell or taste. It has a host of health benefits for joints, hair, skin, and more.
Lion's mane matcha latte mix – It contains phytonutrients, protein, and minerals. It is caffeine-free and makes 60 cups.
Fermented Ginger Latte Mix – It has a balanced taste, no sweeteners like stevia, turmeric, and ginger fermented for optimal digestibility. It is made with vegan ingredients and keeps all priority allergens out.
5 Mushroom Hot Chocolate Mix – This product contains five organic functional mushrooms such as lion's mane, Chaga, turkey tail, reishi, and cordyceps. It is safe and very healthy.
Macca Mate Beet Latte Mix – It boosts energy and stamina and contains a rich and crave-worthy taste without overwhelming the flavors of beet or maca.
Pricing Of Landish Products
Here are some of the affordable range of products available at Landish. Get Lion's mane matcha latte mix at $44.99, Reishi Chaga chai latte mix at $44.99, North Atlantic marine collagen at $44.99, 5 Mushroom hot chocolate at $24.99, Fermented turmeric ginger latte mix at $44.99, and Maca mate beet latte mix at $44.99.
Conclusion
Landish provides types of products such as Protein powders, Marine collagen, and plant-based lattes. It provides the world's smartest foods that can be included in a daily wellness routine. The products are delicious in taste and healthy and can be consumed daily to enhance the look of the skin. There are functional benefits of ingredients supported by modern science and ancestor tradition.