Smoking is one of the most luxurious hobbies among most people. Many people love to maintain the smoking material and ingredients into highly attractive and luxurious containers and cases. Apothecarry is the online platform for high-quality smoking cases and accessories.
Apothecarry provides luxury organization systems and accessories to modern smokers. It has easy, safe, and more reliable cases that give the user a relaxing and best smoking experience. Here you will find the complete details about luxury smoking accessories.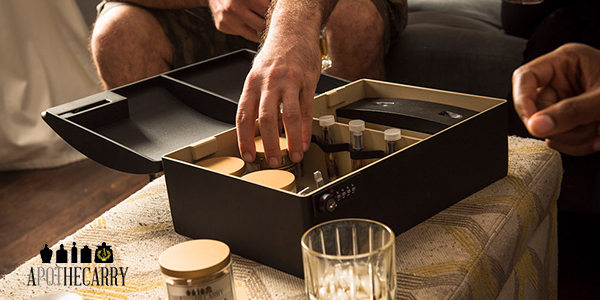 Why choose Apothecarry?
Apothecarry provides high-class, stunning, and technologically advanced products. All the cases and accessories are made from fine quality materials that help keep the smoking products fresh, arranged, and secure. The Apothecarry cases are cultivated based on the indo lifestyle community and made from natural plants to keep the products completely safe.
Products at Apothecarry
Apothecarry provides a huge variety of products for keeping smoking accessories safe and secure at affordable prices
The Edward Limited Edition Case
The Edward limited edition case is carefully crafted and stained to make it visually unique. This Apothecarry case is strong, durable, and odor resistant with four strain units for a high-end lifestyle. It has four dab containers with silicone non-stick coating for holding dabs.
Three Chamber Grinder
Apothecarry 3-chamber grinder is a 25-inch aluminum alloy grinder with a kief catcher. This grinder is completely made from fine quality aluminum and a reliable tool to grind any type of leaves, tobacco extracts, and much more.
Original Apothecarry case
This Apothecarry humidor case is strong, durable and beautiful, and carefully crafted for uniqueness. It includes a high-quality zinc alloy grinder with catcher and elastic straps for holding pre-filled oil canisters upright: a full herb and tobacco organizational system designed to keep your products fresh, arranged, and secure.
Wine Storage and Humidity jar
Humidity jars contain two boveda packs which include an optimal re-writable label reliable for storing a strain of herb or tobacco. The boveda humidity system helps to keep the plant from drying out.
Pricing at Apothecarry
Apothecarry provides a large selection of luxurious cases and accessories for smoking at affordable and discounted prices. Wine storage and humidity jar and Rocks storage humidity jar are available at $20. The Edward and Spencer limited edition case at just $299. Original Apothecarry case dark black and brown is at $259.
2-strain Apothecarry travel case is at just $159, and a three-chamber grinder is available at $25. The Dabney is available at the discounted price of $229, and the train case with a 4-strain stainless travel case is at $230.
Conclusion
Apothecarry is the online platform for high-quality, luxurious cases and accessories for storing wines and smoking accessories. It has a wide collection of various cases with multiple strains. All the products are made from fine quality materials and are safe to store smoking products for a long time. This store also provides clothing products for men and women with Apothecarry print.