Connecting with people is very crucial to expanding and growing the business. A proper email-finding solution is essential to connect with people. Hunter is an online platform that helps in finding a professional email address and connects with people.
Click Here To Visit Hunter Io
Hunter provides a wide range of services that helps in business growth. It offers various services like domain search, email finder, author finder, email verification, chrome extension, and many more. Hunter has reliable and authentic data sourced and processed with transparent methods. More details about the email finder and domain are available in this article.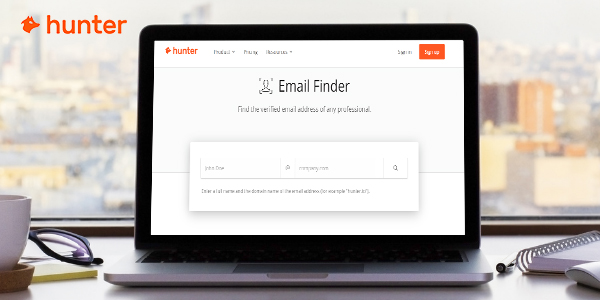 Why choose Hunter?
Data transparency is the main reason that you should consider Hunter over other email service providers. It gives public sources and discovery dates for every single email address. Hunter also has reliable add-ons like chrome extension, firefox add-on, CRM integration, mail tracker, and many more. This platform uses unique sets of data for email verification.
Products at Hunter
Hunter provides a variety of email address finding solutions as per the requirements of business growth
Domain Search
Hunter domain search is the most powerful email finder tool. It lists the email addresses publicly available on the web within a few seconds. The email addresses can be found in bulk and also from domain names with simple API calls.
Email Finder
Hunter email finder tool helps to find verified email addresses of any profession. It puts all the data together with email formats, email addresses found on the web, verifications, and other signals to get the right information in less time.
Chrome Extension
Hunter Chrome extension lets the user find the email addresses immediately behind the websites the user is browsing. You can find the mailing address of a specific person by just clicking the name on the search bar.
Google Sheets Add-on
It is used to find and verify email addresses directly from the google sheets. The user can find email addresses for any domain by launching the single or bulk domain search directly. Verification of the email address can also be done directly in the spreadsheet.
Pricing at Hunter
Hunter provides email address-finding tools and add-ons at affordable and discounted pricing plans. The starter plan is available at $49 with 500 searches and 1000 verifications per month. Growth plan with domain search full results and exports and 5000 verifications at $99 per month.
Pro plan with priority support and 10,000 searches per month is billed at $199 per month. Enterprise plan with campaign premium features and priority support is available at $399 per month—30% savings on the one-year subscription of all plans.
Conclusion
Hunter is an online platform that provides email address finding solutions for business enhancement. It has a huge variety of services available to find a professional email address in seconds and connect people related to the user's business. Domain search is Hunter's most powerful and effective email-finding solution.