Are you looking for premium quality and fashionable lingeries? You need to know about the Darkest Fox, a one-stop solution for the designer and unique lingerie. It has a wide collection of women's innerwear available perfectly suitable for swimming, beaches, lookbooks, and films.
Click Here To Visit Darkest Fox
Darkest Fox provides a huge variety of the latest and different lingerie sets for ultra comfort and durability. It has a wide collection of various fashionable bras and panties with different patterns, colors, and designs. All the lingerie is made from completely fine quality fabric and does not give any itchiness and dryness. More details about the types and features of lingeries will be available in this article.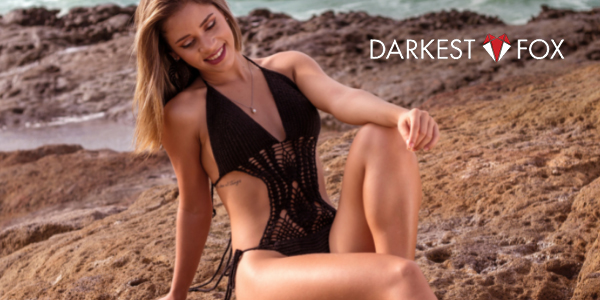 Why choose Darkest Fox?
Darkest Fox is a reliable online store for lingerie with a huge variety of comfortable and safe features in the fabric. If you think why to choose Darkest Fox over other lingerie brands, then one of the reasons is that it has a collection of luxurious lingerie sets in different colors and fabrics. It also has designer and unique sheer lingeries.
Products at Darkest Fox
Darkest Fox offers a huge range of luxurious and branded lingeries in various sizes and patterns
Giselle White Lingerie Set
Giselle white lingerie is the Darkest Fox lingerie set that includes a lace bra, lace garter belt, and string thong. The Giselle string thong is made from 100% nylon, and the lace bra and lace garter belt are made from 90% polyamide and 10% elastane.
Eros Detachable Mini Thong
This Darkest Fox eros detachable mini thong comes in black lace and hooks on the front to allow easy opening. It has soft and elastic fabric made in Italy with 94% polyamide and 6% elastane.
Ava Half Cup Leather Bra Set
Ava's half-cup leather bra set is made from luxurious soft Japanese plonge leather. It has twin detachable straps, and hook, and eye center back fastening. The half-style cup gives an attractive look of skin, and its whilst gives support.
Dermery Jayne One Piece Swim
Dermery Jayne One Piece Swim has an extra-long braided strap woven with gold rings for an adjustable fit. It is made with a seamless style with a backless design and scrunches back bottom seam.
Pricing at Darkest Fox
Darkest Fox offers a huge variety of lingerie, sex toys, and other accessories at affordable and discounted prices. Annabel ouvert mini brief is available at just $124. Dermery Jayne One Piece Swimsuit is at just $175. The Kelani soft bra lingerie set is available at $208.
Arabella French lace soft cup bra is at $160. Bebe Arabella's lingerie set is available at $363. Ava peep mini leather briefs are available at $155. Montana's black leather skirt is available at $210. For more offers and savings, the customers can also use the Darkest Fox discount code.
Conclusion
Darkest Fox is the online store for the latest and designer lingerie and swimwear. It has a wide collection of unique and high-quality leather bras and thongs at reasonable prices. All the products are made from fine quality leather and fabric for durability and ultra comfort in usage. This store also offers a huge selection of sex toys and accessories with different varieties and features.