Swellpro was founded eric hu in 2013. He has dedicated his whole life on researching and development of waterproof cameras and Hobby plane. When he traveled to Caribbean islands, he came back with an idea of inventing waterproof drones. Later he witnessed drone crashing into the deeper sea.
Click Here To Visit SwellPro
Eric came back to China he started manufacturing and designing of the waterproof drone. 
Why SwellPro?
Swellpro started FPV factory with a group of aircraft experts. In the initial stage their the whole team has gone through countless obstacles. But today swellpro waterproof gimbal remains as the most significant achievement for all time.
Spry Drone
These spry drones are the small waterproof drone that so many action sports community has been waiting for. The spry drone must be compact & portable. Especially these drones were specially coated with motors and corrosion-resistant materials. You can peacefully land and take off from the water. This is the first-ever waterproof remote controller. Just relax and enjoy your total freedom while filming.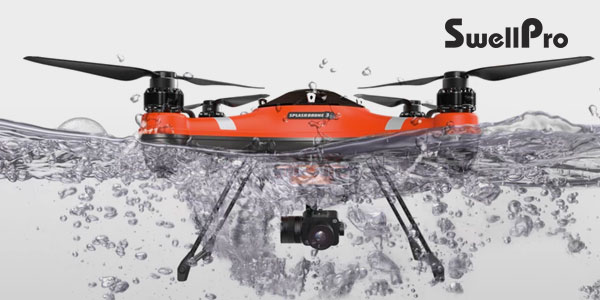 These drones can be used in the rain, Seaspray. Joysticks were built-in live upon monitors, and all buttons were protected against spray, and they can be smoothly precisely. Spry drones are best for capturing adventures in ultra 4k. They won't even compromise on the quality of the image. This camera uses a Sony 1/2.3 CMOS sensor paired with a lens which can minimize fisheye distortion for getting natural-looking images.
By using spry drones, you can record stunning 4K video at 30 frames per second with a maximum bit of 64mbps. It has 4K 30FPS, 12MP still photo, Up to 64GB SD Card and Wi-Fi connectivity. This drone can leverage electronic image stabilization which provides smooth and fluid video capture. Any action footages can look good straight out of the camera. This spry drone is completely enclosed in an optical-engineered polycarbonate dome to provide transparency without any distortion. The specially designed shade is surrounding the filters of the dome by balancing excessive glare in flat water and snow.
The smart features such as It comes by paring your mobile device to remote controlling with spry app control. You can access one key launch, Tap-to-fly, orbit flights, Auto-return home, and Autonomous navigation. It is spry by name and nature. They were high-thrust motors with ESCs push speed limit up to 70 KM. This spry drone is the perfect tool for Surfing, Boating, Wakeboarding, Kayaking, and jet-skiing. 
SplashDrone 3+ 
SplashDrone 3+ is the world's first waterproof quadcopter drone. They have enhanced and extended the features of the previous splashDrone 3. This drone is the most versatile waterproof drone yet. SplashDrone 3+ is made from durable 3mm reinforced ABS which ensures a perfect waterproof seal. These drones go through at least two pressure tests during production. SplashDrone + safely and smoothly.
Conclusion 
Swellpro is one of the world's largest drone selling company. The different types of drones were available such as Spry drones, SplashDrone 3+, Spry drone and S3 FPV goggle.