Proko is a fantastic platform which is loaded with the resources of artists. Their main aim is to provide awesome artistic instructional videos.
Why Proko?
The founder of a proko company is Stan Prokopenko. He is an artist and teacher. You can eventually notice that he makes entertaining them while teaching educational tutorials. During this process, individuals can learn better by retaining more information. The is a process of continuous learning and you can re-watch these videos whenever you are free. Stan Prokopenko wants to share this information and knowledge with other professionals. This is a library of all videos.
Proko Books
At proko  eighteen different types of book collections were available such as Drawing the head and hands by Andrew Loomis, Figure drawing for all it's worth by Andrew Loomis, Successful Drawing by Andrew Loomis, Figure drawing by Steve Huston, Figure drawing by Michael Hampton, Vilppu drawing manual by Glenn Vippu, Human anatomy for artists by Eliot Goldfinger, Artistic Anatomy by Dr. Paul Richer, Anatomy for the Artist by Sarah Simblet, Strength training anatomy 3rd edition by Frederic Delavier, Constructive Anatomy by George B. Bridgman, Imagination Realism by James Gurney, Color and Light by James Gurney, Alla Prima  by Richard Schmid, The art spirit by Robert Henri, Drawing people by Barbara Bradley, Force dynamic life drawing by Mike Mattesi, Force drawing human anatomy by Mike Mattesi and Force animal drawing by Mike mattesi.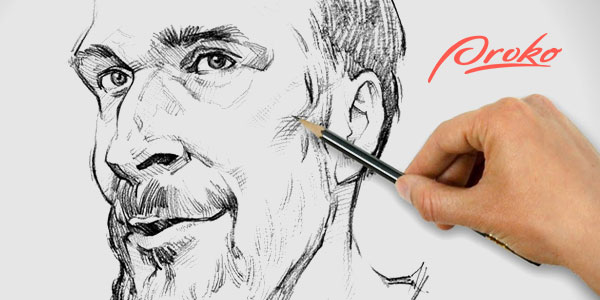 Proko Bean
The proko bean has been divided into two forms like one for the rib cage and another for the hips. Just imagine if you take a sock and place two balls in it. Due to the softer skin which is surrounded the balls acts like they can be twisted, tilt side to side, lean forward and backward. The outer portion can be stretch & Pinch. This represents the actual skin how it would react to the regular motions on the human body. Oval hips consist of hips which can be oblique and meets top oval.
Proko Beginner Course
Proko beginner course teaches certain fundamentals to measure principle in the actual drawing. Some of the fundaments which are enlisted such as Figure drawing course, Basic shapes, How to hold and control your pencil, Drawing supplies I use for longer drawings and How to shade a drawing, Top 5 shading mistakes, Top 5 drawing mistakes, Quickly draw heads with the Loomis method of part one, Draw any head type with Loomis method of Part two and Intuitive portrait sketching with the Loomis method of part three.
Proko Biceps
In this, you are going to learn about how to draw the biceps and Brachialis. This brachialis is present under the biceps which helps to bend the elbow. It is inserted by a coronoid process which allows hooking on the front. This brachialis can only be visible from the sides of the arm. They are higher on the outer side and Lower on inside. A large number of Arteries, Veins, and nerves are formed inside. If you flexed it harder then, it appears in the oval-shape.
Drawings are the best medium for expressing their words and actions and are believed to be just another basic form of communication. Every designer and artist uses drawing as their way to start their creative thinking. There are few basic skills, but mostly it brings out the artistic hero by giving them confidence in their creative abilities. Both New and professional artists consider drawing to be a lifelong journey, and there are just many things to learn. Science says drawings act as more mental health benefits outside of your memory.
People who like drawing but cannot communicate with it have this great website that helps one fulfill all their needs and be more creative. This website will enhance the skills and minds of one individual. Proko courses are here to help those who don't know where to begin. It brings in top-quality videos which provide essential information regarding drawings. Proko reviews on the services allow the user to understand more about the services being offered and maintain transparency. It is some of the different sites where you can learn how to draw with fun-loving tutorials to scale up your drawing experience. Therefore, Proko can be your all-time pick. So, take a look at this brand and have a clear picture.
Why Proko?
Proko is a widely used website for beginners to start from the bottom and for professionals to make them more explicit about the product. Drawing is considered one of the best media to deliver your own opinion towards life, politics, or anything; through Proko, one gets the best support to fulfill whatever they want to achieve.
A craft needs to be molded so that once it reaches out to the people, they should directly understand the motive and reason behind the creativity. To make these creatures look approachable, one needs education through books or videos, or inspirational people. Proko's website has been created to reach out to more passionate artists to achieve and focus on what they want to do in life. The site also gives personal critique, which provides more strength to those who are beginners.
The website is coming without any downside as the price, high-quality content, and accessible teaching style have made it easier for an individual to understand. The course is well suited and perfectly prepared to make every individual know from the primary level to the highest level. All the classes come in HD 720p MP4 files. The new ones are coming with 1080p HD, which gives more clarity to understand and brings out the best use. It is advisable not to spend any money until and unless one has tried Proko.
You May Also Like
Superstar Blogging Review
Transcribe Anywhere Review
List of Courses
There are premium and basic courses which help one to get a better understanding of drawings. Courses include Portrait Drawing Course, Figure Drawing Course, Anatomy Drawing Course, Caricature Drawing Course. In the premium course, you get 40 minutes of extra poses with Stan demoing how to draw each bean.
Portrait Drawing Course
As far as portrait drawing is concerned, there is an effective approach to draw any picture. However, it would help if you make sure about a few points, such as studying the anatomy of lips, eyes, ears, and nose. Therefore, this information can help you to get more into watching the lesson again and again.
Not only the anatomy, but there are multiple points to consider from start to finish. At Proko, you can get to learn every basic angle instruction about portrait drawing. Besides, you can get access to 3D models where you can do practice and study. It offers mini-lesson to people, which is the same as the free version.
Figure Drawing Fundamentals Course
When it comes to figuring drawing, Proko offers a premium course. Its course comes with 15+ hours of instruction, narrated drawing demos, and assignment examples. Besides, this course is capable of giving you all the required information about drawing. And with that, you can easily adapt any drawing just like an advanced artist.
To understand drawing better, you will get various videos, which can boost your confidence while drawing. Plus, this video can help you to understand things better like never before. And, you can enjoy the videos and learn at the same time. So, take any video course with terrific examples and assignments to have a better picture. Moreover, its videos are fully uncensored.
Anatomy of the Human Body Course
In the Anatomy of the Human Body Course, you can learn and gain immense knowledge about drawing any picture in a much better way. However, many things need to take place to take your drawing to the next level. Therefore, going for in-depth instruction without knowing is never a good decision.
However, in this anatomy course, you will know everything about the picture and learn some important points that need to be there while drawing a picture. By taking this course, you can improve your drawing sense and make amazing drawings just like real people.
Package Deals
The package deal is quite affordable. The best part is that you get many choices in the course section, such as a complete human anatomy course, figure fundamental, caricature course, and many more. So, pick any of these courses and start your session without taking time. Besides, the results are much better without paying too much. Therefore, you must try Proko and its packages. So, hurry up and grab the most affordable drawing courses for you and your friends.
Conclusion
Proko is one of the most important websites for people who are into learning a new art or drawing with fun tutorials. It has a wide collection of draw videos, which can help you attract and improve your drawing in less time. It gives you knowledge about drawing and provides essential information about anatomy to draw pictures of a real person.