Are you looking for any store that provides premium quality apparel and accessories for your nursing during pregnancy? All you need to know is Milk & Baby, an online store for complete nursing wear for moms and moms-to-be.
Click Here To Visit Milk & Baby Review
Milk & Baby is the one-stop shop for all daily care needs pre and post-pregnancy. It has a huge variety of designer and comfortable dresses for maternity and nursing. All the products are made from fine quality fabrics for ultra-comfort and relaxation during the maternity period. More details about the products and pricing will be available in this article.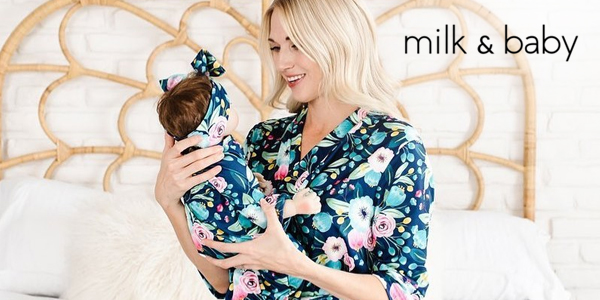 Why Choose Milk & Baby?
If you think about why to choose Milk & Baby over other maternity wear providers, one of the reasons is that it has a huge variety of products available suitable for all sizes. It is the ideal platform for complete nursing care from starting period to the end. It has a wide collection of branded and affordable clothes in one place.
Products at Milk & Baby
Milk & Baby offers a variety of nursing and maternity care clothing and accessories
Multifaceted – Back Snap Hands-Free Nursing and Pumping Top
Multifaceted is the breathable and wrinkle-resistant back snap hands-free nursing and pumping top made from completely organic fabric. The modern front neckline of this top provides support and flattering lines.
Blue Fog Women's Lounge Dress
Blue fog is the perfect lounge dress for women to relax during the maternity period. This lounge dress is designed with a loose fit and has front functional buttons for easy access while nursing.
Take It Easy Tank
It is a classic casual tank designed to feel soft and comfortable all the time during maternity. It is completely designed for a relaxed fit and finished with the double-layer fabric on the hem with a raw edge.
Compression Socks
These knee-high compression socks minimize the uncomfortable swelling in the calves, knee, and foot. These socks are best suitable for before, during, and after the pregnancy period.
Pricing at Milk & Baby
Milk & Baby offers a huge variety of products for moms and babies at affordable and discounted prices. Compression socks are available for just $30. High-waisted postpartum recovery panties are at $33, and Everything mama blanket is available at $44.
Organic contour reusable nursing pads are available at $14. The postpartum recovery bundle is available at $60. You go, girl mommy and me tee are available at $42. Bella's two-piece maternity nursing set is at just $120. Blue fog women's lounge dress is available for just $48.
Conclusion
Milk & Baby is an online store that provides a huge variety of fine quality wear for pre and post-maternity care. It is the all-in-one solution for complete postpartum accessories. All the mother and baby care products are made from high-quality fabrics for ultra comfort and relaxation. This store also has a wide collection of nursing wear, nursing sleepwear, and newborn baby outfits.