Lupsona is company brings trendy new brands by offering gorgeous clothing & accessories. The aim to establish a perfect platform for all fashion designers to reach their fashion ambition. It is a worldwide online shop that provides thousands of chic products for global fashion lovers all across the globe. You can even identify their buyers are from the US, Europe, Australia, and Asia. It's a unique place where you can find the newest arrivals of fashion products each & every day. Every piece of lupsona sourced from an ethical fair-trade factory. This company is continuously striving to improve the Quality of their products.
Why Lupsona?
Lupsona is impressive to showcase various types of popular products. All products were made up of premium quality. You can shop for different kinds of products such as Swimwear, Tee, Tanks, Pants, Dress, Bodysuits, Summer wear, Jumpsuits, Rompers, knitwears, Blouses, T-shirts, and Accessories. Ordering any product at lupsona store is easy. While viewing an item, You can select your size and Quality, which suits perfectly for you. Once if you reviewed all the items in the cart then, continue to check out the page by placing your order.
The customer should provide proper address regarding shipping details. After placing an order, you will receive a confirmation Email about the products which you ordered if you want to update billing address then, Just logging to account by selecting My account details which placed at the top right corner. The individual can even update the billing address manually. Almost all sizes are available at lupsona from XXS, XS, S, M. L. XL2XL, 3XL, and 4XL.
Swimwear:
At lupsona, You can shop for different types of swimwear products such as Front-tie bowknot 2 pieces bikini set, Ink painting print one-piece swimsuit, Marble print mesh patch strapless bikini set, Black & pink colour patch leopard 2 pieces bikini, Cute print ruffled hem 2 piece bikini set, Contrast colour 2 pieces bikini set, Moon and stars printed two-pieces bikini set, Hollow out-solid color one-piece swimsuit, Green snake print 2 pieces bikini set, Black n white joint color patch hollow out one-piece swimsuit, and so on.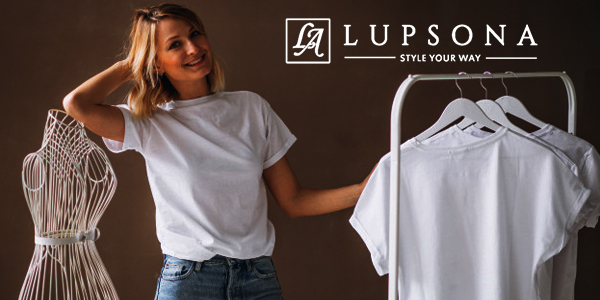 Tee & Tanks:
Various types of Tee & Tanks that you can shop for as Star sheer mesh crop top, Cute evil print short sleeve t-shirts, Cute dragon print sleeve T-shirts, black stars sheer mesh cover-up t-shirt dress, Pulp fiction poster print oversize t-shirt, Gingham strappy cold shoulder front-tie bell sleeve crop top, Honey letters embroidery strappy crop top, Metal ring stripes crop top skirt set, That's gross, Multi-way puff sleeve crop top, No bra club funny printed crop top.
Pants:
These pants come in six different colors contrast camouflage loose, relaxed pants. Camouflage designed with cotton materials that are approximately in the length of 93-97 cm. The pockets decorations, zipper fly, were included. All these pants were available in six different colors like Orange-Camo, Pink-Camo, Purple-camo, Gray-Camo, Yellow-camo, and Wine-camo.
Accessories:
You can find nine different types of accessories such as Chockers, Necklaces, Socks & Tights, Belts & Body chains, Earrings, Sunglasses, Hats, Rings & Bracelets, Scarves & Blankets, and Tattoo. Various type of chokers & Pendant necklace such as 2/3/4 lines sparkle diamonds simple narrow choker, 26 English letter pendant necklaces, Angel wings pendant stainless steel necklaces, Anti-war cross multi-layer collarbone necklaces, and many more.
Conclusion:
Lupsona manufactures top-notch quality clothing accessories at most affordable for everyone. It is an incredible place to go and shop for trendy products. All the product were shipped globally across various countries. At lupsona, you can shop for Newest Hoddies, Sweatshirts, Swimwear, Tee, Tanks, Pants, Dress, Bodysuits, and Accessories. You can even follow lupsona on Facebook, Pinterest, and Instagram.