Are you willing to buy keto-friendly products for your diet? Then you should be looking for a suitable platform such as KetoandCo. KetoandCo is the place where you can buy keto products that are delicious, low carb, Nutritious and more.
Keto and Co offer premium quality keto products for keto people. These products are made to be suitable for a daily fitness diet, and they are easy to store. High in quality, tested and tasty ingredients are used to make these products. In these products, you will not see fuzzy carb math or hidden starches. The ketogenic foods are pancake mix, brownie mix, crunchy granola, pizza mix, keto flatbread, and so on. Here you can also buy products that are diabetic friendly, vegan, and more.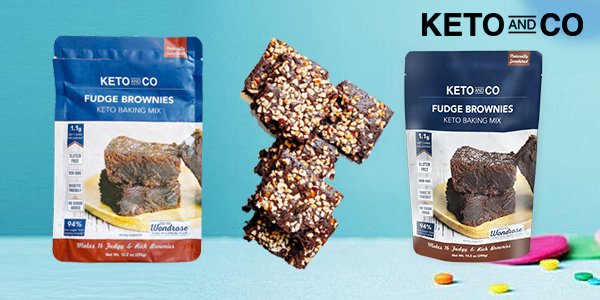 Why Keto and Co?
Keto and Co's objective is to make ultra low carb, healthy, easy, and delicious products. This company provides Free shipping for orders more than $50. You will find keto products in different flavors and ingredients at affordable prices. Most of the Keto and Co reviews are rated 5-star.
Products Of Keto and Co
Keto and Co provide healthy diet products for dieting people. Some of them are,
Keto fudge brownie mix – This product is diabetic-friendly and keto-friendly, and it has naturally sweetened and is very tasty. It is quick and easy to make brownies.
Keto soft-baked cookie mix – It can make 16 soft-baked cookies. It is Non-GMO and Gluten-free.
Keto flatbread and pizza bread mix – It is high in fiber and can be used to make a number of tasty recipes. It provides 4g protein per serving.
Keto pancake and waffle mix – With this mix, you can make chaffless, donuts, french toasts, and more. It has 9g of protein and 5g of fiber per serving.
Keto baking mix kit – This kit contains a variety of cake mixes flavors. From which you can enjoy delicious desserts.
Pricing Of Keto and Co-Products
Get Keto baking mix kit at $54.99, Keto banana caramel muffin mix at $9.99, Keto granola at $9.99, Keto meal shakes at $60, Keto hot breakfast at $8.99, Keto dry riced vegetables at $7.99, Keto hot breakfast at $8.99, Wondrose sugar replacer at $9.99, Keto and Co shortbread and Cookie mix at $9.99 and more.
Conclusion
Keto and Co products can be used to make a variety of healthy dishes every day. This company is located in Boston, Massachusetts. Keto food is made by keto people. The customer can build their own box by selecting the mixes and snacks that they want in the box that will be delivered to them. The boxes are offered in 6 packs, 12 packs, and 24 packs. This website provides a safe and secure environment for performing payments. Check for the Keto and Co recipes and tips on their Instagram page. In order to find the shop, Keto and Co near me can be searched online.