Understanding Hostiso
In today's digital era, the foundation of any successful online venture, be it a personal blog, e-commerce store, or corporate website, lies in its hosting solution. It's not just about getting your website live; it's about ensuring optimal performance, security, and scalability. And that's where Hostiso comes into the picture.
Hostiso isn't just a name in the hosting industry; it's a hallmark of reliability. Rooted in the idea of delivering premium hosting solutions, Hostiso offers a plethora of services designed to meet diverse web-based needs. It is an all-in-one platform that provides the tools and resources needed to launch, manage, and grow an online presence, regardless of one's tech savviness.
Visit Hostiso
What Does Hostiso Offer?
In a saturated market of hosting services, Hostiso distinguishes itself by providing a range of products and services tailored to cater to the dynamic needs of individuals and businesses alike. Here's a deep dive into what Hostiso, as a premium merchant, brings to the table: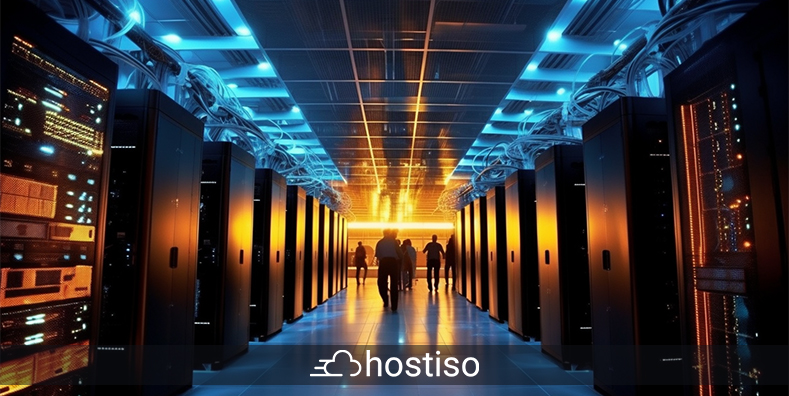 1. Shared Hosting:
Perfect for those just starting out or operating on a tighter budget, Hostiso's shared hosting solutions provide an affordable yet reliable way to get online. It's an ideal choice for smaller websites, personal blogs, or businesses that don't require the full resources of an entire server.
Benefits: Cost-effective, user-friendly, and equipped with cPanel for easy management.
Ideal for: startups, personal projects, and small-scale websites.
2. Dedicated Servers:
For businesses and websites that demand peak performance, Hostiso's dedicated servers provide the power and control necessary for optimum functionality. By offering an entire server's resources without sharing, this option ensures high-speed performance and security.
Benefits: Complete control over server environment, enhanced performance, and heightened security measures.
Ideal for: High-traffic websites, large businesses, and applications requiring intensive resources.
3. VPS (Virtual Private Server) Hosting:
A middle-ground solution, VPS hosting merges the affordability of shared hosting with the power and control of dedicated servers. With dedicated resources, it ensures better performance and security than shared hosting.
Benefits: Cost-efficient, scalable, and offers greater customization.
Ideal for: Growing businesses, e-commerce sites, and those looking for a balance between price and performance.
4. Cloud Hosting:
Hostiso's cloud hosting solutions ensure redundancy and reliability by distributing the hosting environment across multiple servers. This not only enhances performance but also ensures almost no downtime.
Benefits: Scalability, reliability, and efficient resource utilization.
Ideal for: Businesses looking for flexible solutions and those aiming for maximum uptime.
5. Additional Offerings:
Beyond traditional hosting solutions, Hostiso provides a range of additional services, including:
SSL Certificates: Essential for e-commerce stores and any site that collects user information, these certificates encrypt data and boost SEO rankings.
CDN Integration: Enhancing website load times by distributing content across a global network.
Domain Services: Helping users find, register, or transfer the perfect domain name for their venture.
In conclusion, Hostiso offers a diversified portfolio of hosting solutions and associated services, ensuring that every digital need, be it small or large, is addressed with precision, efficiency, and reliability.
Key Features of Hostiso
In the intricate world of hosting solutions, what truly sets a service provider apart are its features. Hostiso, over the years, has refined and expanded its offerings, ensuring they are in sync with the ever-evolving demands of the digital age. Let's delve into the key features that make Hostiso a preferred choice for many:
Unparalleled Speed and Uptime:
One of the foremost considerations for any website owner is the speed and reliability of their hosting provider. Hostiso ensures that websites hosted on their platform are always accessible with minimal downtimes, supported by their robust infrastructure.
Enhanced Security Protocols:
In the digital age, security is paramount. Hostiso provides:
Free SSL Certificates: Encrypting data between the server and the visitor's browser.
Daily Backups: Ensuring data is safe and recoverable.
DDoS Protection: Safeguarding websites from malicious attacks.
Intuitive Control Panel:
User experience is at the forefront of Hostiso's service offering. The cPanel provided is intuitive, making website management, from setting up email accounts to database management, a breeze even for beginners.
24/7 Dedicated Customer Support:
The importance of effective customer support cannot be overstated. Hostiso's dedicated team is available around the clock, ensuring queries are addressed promptly and issues are resolved efficiently.
Scalability at its Best:
Understanding that businesses grow and needs evolve, Hostiso offers scalable solutions. Whether you're experiencing a surge in web traffic or expanding your online operations, upgrading your hosting plan is hassle-free.
One-Click Installations:
From popular Content Management Systems (CMS) like WordPress, Joomla, and Drupal to e-commerce platforms such as Magento, Hostiso provides easy one-click installations, making website setup straightforward.
Eco-Friendly Hosting:
With a growing emphasis on sustainability, Hostiso is committed to reducing its carbon footprint. Their green hosting initiatives ensure that while your website runs smoothly, the environment remains protected.
Comprehensive Knowledge Base:
For those who prefer self-help solutions or are keen on understanding the nuances of web hosting, Hostiso offers an extensive knowledge base. From tutorials to FAQs, it's a treasure trove of valuable information.
Competitive Pricing:
Quality doesn't always have to come at a steep price. Hostiso has ensured that their top-notch services are priced competitively, providing value for every dollar spent.
Global Data Centers:
With data centers located strategically across the globe, Hostiso ensures optimal performance and reduced latency for websites, regardless of where the audience is based.
In wrapping up, Hostiso combines a suite of powerful features with user-centric services, cementing its position as a formidable player in the hosting industry. Whether you're a novice or a seasoned professional, Hostiso's features are tailored to enhance your online journey.
The pros and cons of opting for Hostiso as your hosting partner:
Pros of Using Hostiso
1. Wide Range of Offerings:
From shared hosting to dedicated servers and cloud solutions, Hostiso offers a comprehensive suite of services catering to varied needs.
2. Top-Notch Security:
With free SSL certificates, daily backups, and DDoS protection, Hostiso ensures that your data remains secure against potential threats.
3. Stellar Uptime and Performance:
Backed by a robust infrastructure and global data centers, Hostiso guarantees optimal website performance and impressive uptime.
4. 24/7 Customer Support:
Having round-the-clock support means that any issues or queries are addressed promptly, ensuring minimal disruption.
5. User-Friendly Interface:
With an intuitive control panel and one-click installations, managing and setting up websites becomes a breeze, even for those less tech-savvy.
6. Scalable Solutions:
As your business grows, so do your hosting needs. Hostiso offers seamless scalability, allowing for easy upgrades as and when required.
7. Competitive Pricing:
While offering premium services, Hostiso ensures that its pricing remains competitive, providing significant value for the investment.
8. Commitment to Sustainability:
Their green hosting initiatives reflect a commitment to environmental responsibility, a feature that resonates with the eco-conscious clientele.
Cons of Using Hostiso
1. Overwhelming Options for Beginners:
The sheer variety of hosting solutions might be confusing for someone new to the domain, requiring them to invest time in understanding the best fit.
2. Occasional Downtimes:
While Hostiso strives for impeccable uptime, like any other hosting provider, there might be rare instances of downtimes or maintenance breaks.
3. Learning Curve for Advanced Features:
While basic operations are user-friendly, leveraging some of the advanced features may require a bit of a learning curve or technical know-how.
In conclusion, while Hostiso offers a plethora of advantages with its comprehensive features and robust support, potential users should weigh these against the few cons to make an informed choice. Overall, the pros significantly outnumber the cons, making Hostiso a strong contender in the hosting market.
Maximizing the Value from Hostiso
Once you've chosen Hostiso as your hosting provider, the next crucial step is to ensure that you're maximizing the value derived from their services. Leveraging the full potential of Hostiso can significantly enhance your online presence and performance. Here's a guide on how to get the most out of your Hostiso partnership:
1. Understand Your Needs:
Before diving into the myriad of features and services, take a step back and assess your website's objectives. Are you looking to set up a blog, an e-commerce platform, or a corporate site? Your needs will dictate which services to prioritize.
2. Engage with Their Support Team:
Hostiso's 24/7 customer support is one of its strongest assets. Whether you're facing a technical glitch, need advice on scaling, or simply have a query, don't hesitate to reach out. Their expertise can guide you and enhance your hosting experience.
3. Leverage One-Click Installations:
Make the most of the one-click installations for popular CMS and platforms. This not only saves time but also ensures a smoother setup process.
4. Regularly Backup Your Data:
While Hostiso provides daily backups, it's always a good practice to manually back up crucial data. This adds an additional layer of security and ensures that you're prepared for any contingencies.
5. Explore Advanced Features:
Beyond basic hosting, Hostiso offers a range of advanced features. Dive deep into them, learn their functionalities, and integrate them into your website management routine for optimal results.
6. Stay Updated:
The digital landscape is ever-evolving, and so is Hostiso. Ensure that you're updated with their latest offerings, upgrades, and trends. This can open up new avenues to enhance your site's performance.
7. Prioritize Security:
Regularly update your passwords, ensure SSL certificates are in place, and stay informed about the latest security protocols. A secure website not only protects your data but also instills trust among your visitors.
8. Monitor Performance:
Regularly check your website's performance. Hostiso offers tools and analytics that can give insights into load times, downtime, and other vital metrics. Keeping an eye on these can help you preemptively address any issues.
9. Take Advantage of Knowledge Resources:
Hostiso's comprehensive knowledge base is a treasure trove of information. From tutorials to FAQs, these resources can help you navigate any challenges and make the most of the hosting services.
10. Review and Scale Accordingly:
As your website grows, your hosting needs will evolve. Regularly review your hosting plan and scale up (or down) based on traffic patterns and performance requirements. In essence, while Hostiso provides the tools and services for a robust online presence, maximizing value lies in the hands of the user. By actively engaging with the platform, staying updated, and leveraging the available resources, you can ensure that your website thrives in the competitive digital space.