Are you looking for a marketing tool which will enhance the process of your online business? Looking for software which will help your business to know how they are performing daily? Well, then you are in the right place. DashThis is the marketing software where it helps to bring the entire marketing channel at one place and create interactive dashboards which will assist you on what you need to focus on to stand out of all the competitors.
Click Here To Visit DashThis
Online marketing is growing immensely, and it will be tough for a newbie to survive in the market. At times like this, you need a tool where you can know how you need to execute your marketing strategy to stand out of all. There are thousands of marketing tool available which will offer you to give you the best data, and they also charge you more to get the data. And, some of the marketing is not genuine. DashThis is one of the best marketing channels providers, and also you don't have to pay much.
Why DashThis?
DashThis is one of the tools which is recognized in a short period. The software has already bagged an award for being one of the top 100 Business Intelligence software. DashThis offers 14 days money-back guarantee, so if you don't like the product, you can look for a refund.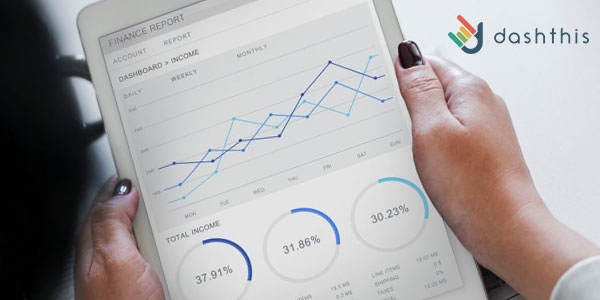 The software works best for small businesses, large businesses, medium business, and freelancers. It also works with Windows, Mac, or any other device, and you get the option of drag and drop widgets. You get Intuitive design dashboards which come with customization option as well. DashThis brings in all the marketing data from various sources into a single, beautiful panel.You can share with your colleagues by giving them access to whichever data they need. It works best to identify what changes you need to do to follow the best marketing strategy.
DashThis Plans
There are five different plans which are offered by DashThis, which includes Individual, Professional, Business, Standard, and Enterprise.
The pricing is different for each of the plans, and if you are looking for a yearly option, you will end up saving money for two months.
The Individual plan works best for solo enterpreneur as it offers three dashboards at just $39 a month. You will get the best customer support if you have any issue with the software.
The Professional plan works best for those who are working with five or more digital agencies. It will charge you $129 a month and will help you to get over ten dashboards.
The business plan is for those who are looking for 25 different, and the plan will charge you $129 a month.
If you are looking for Standard Plan, you will get around 50 dashboards, and the price will be $399 a month.
The Enterprise plan will include 100 dashboards and works best for medium or a big firm. The price of the project will be just $599 a month.