Here you have Buffalo Bottle Craft Review. Buffalo bottle craft was started in 2013 as a side business. Before this company manufactured drinking glasses from used wine, Beer and Liquor bottles. After one year they made the pivot bottle openers, It started in 2014 and expanded the Beerwedge and baseball opener.
Click Here To Visit Buffalo Bottle Craft
Buffalo bottle crafted through recycled containers & Manufactured over 700 drinking glasses when they sold through local retailers, and Craft shows on Etsy.  This company focused on improving the current selection of products. They developed new equipment so that it prints on the beerwedge & baseball opener.
Why Buffalo Bottle Craft?
In Buffalo Bottle Craft have two types of products were available such as Puckopener and Baseball opener. You can even customize these designs. The designs like NHL team, Birthday gifts, Dad gifts, Design your own puckopener.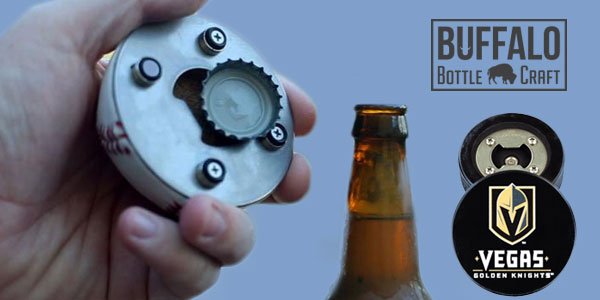 Puck opener Collection
NHL hockey punk bottle openers such as Pittsburgh Penguins, New York Rangers, Boston Bruins, Detroit red wings, Chicago Blackhawks, Washington Capitals, Philadelphia Flyers, Buffalo Sabers, New jersey devils, San Jose sharks, Vegas golden knights, New York Islanders, Saint Louis Blues, Minnesota Wild, Toronto maple leafs, Nashville Predators, Colorado Avalanche, Tampa bay lighting, Los Angeles Kings and so on. Combination of hockey & beer is hard to improve. These puckopener has a new level.
This bottle opener is made for real hockey puck and naturally sized which fits in your hand. One side of the puck is machined out. Four screws can attach 304 stainless steel opener plate. A magnet is attached, so the cap doesn't fly off across the floor like some bottle openers. The different openers like Columbus blue jackets, Dallas stars, Detroit red wings, Edmonton Oilers, Florida Panthers, Losangles kings, Minnesota Wild, and Ottawa Senators.
Baseball opener Collection
Baseball openers were made of half real leather baseball. You can choose personalized wedding designs. They combine baseball and beer. These are the American greatest traditions. This baseball is cut in half a portion of the core is removed and the leather edge is sanded smooth. Stainless steel is attached to the ball using steel fasteners & this opener is magnetic, so it sticks to the fridge or the side of your truck or any metal surface.
The different types of baseball openers such as Losanglesdodgers, Boston red sox, New York Yankees, The original baseball opener, Washington Nationals baseball openers, Chicago Cubs, Toronto blue jays, Texas Ranger, Baltimore Orioles, Tampa bay rays, St Louis Cardinals, Seattle Mariners, San Francisco Giants, San Diego Padres, Pittsburgh Pirates, Philadelphia Phillies, Oakland Athletics, new york met , Minnesota Twins, Milwaukee Brewers, Miami Marlins, Kansas city royals, Houston Astros, Detroit Tigers, Colorado Rockies, Cleveland Indian, Cincinnati Reds, Chicago white sox, Atlanta Braves, Arizona Diamondbacks, If any customer is interested in buying 12 bottle openers which are of same standards then you qualify as wholesale customer.

Conclusion
At Buffalo Bottle Craft you can find fantastic bottle openers like Puck openers & Baseball openers which can be customized by the customers. According to Buffalo Bottle Craft Review, you can also apply your own design on openers.