Read the latest Arctic Fox Review. Arctic Fox is a company that sells premium hair dye that is eco- friendly. They made of delicious grape scent. All the ingredients naturally made and contained no drying alcohols, PPDs, or else harsh chemicals. Already, this Arctic Fox dedicated to research and development right before 2-years. It comes with the formula of pigmented color. However, all the colors will fade but, the unique thing about AF is the shades will continue to glow's even if they are shading.
Click Here To Visit Arctic Fox
All products at Arctic Fox are vegan, cruelty-free, and free from harsh chemicals. Every product is made in Southern California, USA. We knew every organization start's with a theme and idea. AF is founded in 2014 by beauty guru who is Kristen Leanne & Ryan Morgan. Both women have set out to create a semi-permanent color effortlessly.
Why Arctic Fox?
Do you know? Arctic Fox donates 15% of their profits to prevent animal cruelty. When we place an order at AF, it takes 1-2 Business days for domestic shipping. The individuals will receive an email notification when the package is out for delivery. The package within" US" arrives around 3-7 business days, and International shipping takes 5-10 business days to arrive.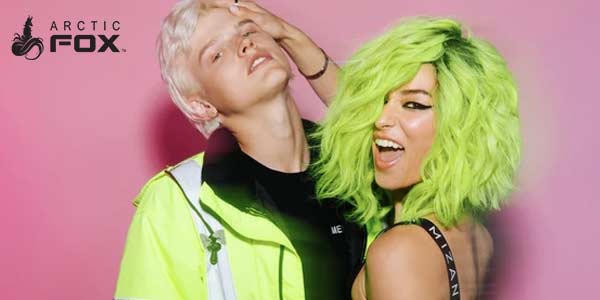 Remember, all orders will be sent via FedEx. If you prefer FedEx Smartpost then, you need to pay $4.90 for one bottle. Sometimes an additional fee is charged based on the total number of bottles and weight. Firstly, you have to make sure that you have given the right address. AF is not responsible for misdirected orders. For unclaimed parcels, you won't get any refunds In case if you are dissatisfied with any products, they will replace it with another piece.
"5" Tips for Taking Care of Your Hair?
Hydrate your hair on a regular bases
The sun and heat can damage the hair strands the same as skin. By adding a little moisture back, you can easily keep all the moisture balance again. Just leave-in a conditioner after taking a shower. It is capable of holding on the moisture levels for a longer duration. In some cases, one can even apply a hair mask because it is filled with a lot of right ingredients.
During the summer season, try to soak up Dry Shampoo
In summer, we all go through the same problem. It sweats a lot. We know that frequent washing of clothes may result in color fading. People have to pick a Dry shampoo with the best ingredients such as jasmine, pine, and amber.
Always use color vivid
Try to skip using CF-products & dry shampoo. Some will add a bit of color into the conditioner. Whenever you rinse your hair, leave the conditioner every time.
Keep-on removing fading color
Many of us go in the pool or playing at the seashore, the ocean water can strip your hair color. So, 1st make sure to keep it hydrated before & after the pool party.
Don't use heat styling tools
Using heat styling can strip color easily. You have to try some other ways like try blow-drying on a serene setting & use Velcro Curles for getting hair volume.
Products at Arctic Fox
Color

Bleach, please

Road trip & vacay dry shampoo

Pool Party foaming hair mask

Swag
Pricing of Arctic Fox
At Arctic Fox, one can find a wide range of products that differently priced. You need to pay $10.99 for Frose color, $19.99 for Bleach, please, $16.99 for Vacay Volumizing Dry Shampoo, $17.99 for Pool party foaming hair, and $45 for AF pink crystal wash sweatshirt. Finally, we have covered almost everything in this Arctic Fox Review.