AdvancePro Tech offers one of the highly adaptable Inventory management solutions for the companies. You can increase the profitability in the most complex environments. It also improves employee productivity by giving them some tools so that the individual can handle the inventory issues easily.
Click Here To Visit AdvancePro
Why AdvancePro?
Nowadays people work in a world where the business is conducted simultaneously. Many organizations use Excel or Quickbooks to manage their inventory. Thousands of people have used this software in hundreds of companies across the globe since 2001. They are a team of inventory experts, system technologists, and customer personnel. This company goal is to provide tools for small & Mid-size businesses by improving profitability.
Inventory Management
Advanced pro consists of a wide range of inventory management tools. It benefits all the stakeholders of your business. Order takers will easily visualize inventory levels. They are responsible for informing the availability of the product. Purchasing department goes through many processes like the ability to set reorder alert levels to generate vendor POs.
You can boost warehouse efficiency by implementing Advance pro warehouse inventory management systems. The inventory can easily be transferred between locations or multiple warehouses. You have to make sure your inventory counts are accurate in real-time. If you receive sell inventory, it automatically adjusts. Use the serial numbers which help you to enforce warranties.  The individual can track valuable assets within the organization.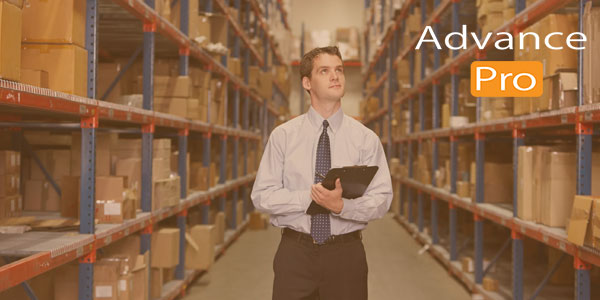 Business Intelligence
This is a data visualization platform which provides visibility into your business operations. You can get the real-time data which is clear and straightforward. It boosts productivity and empowers your team. These instant insights can quickly seize all the new opportunities. By using advanced collaboration tools, A user can seamlessly share the critical information with team members. Just experience the power of operations by finding out important trends with ease. This AP intel integrates with all popular business software system which includes billing, CRM, E-commerce and Customer service.
Mobile Inventory Control:
Mobile inventory control gives you the intelligence of advanced pro in your palms. They can manage orders, Scan barcodes and receive stock. You can be able to track inventory from receiving to shipping. A user can transfer stock effortlessly and Eliminate paper pick tickets & Receiving documentation. Just scan the barcodes of the SKUs after that it would dramatically speed up receiving, Picking and packing operations. You have to make sure that the inventory is tracked by scanning the locations.
Cloud Hosted Service
AdvancePro cloud Hosted service is a virtual server which is hosted by a world-class hosting at a world-class hosting facility including the backup services. You can get remote access in the independent mobile world. By using cloud-hosted service, You can get access to AdvancePro, Quickbooks from the internet-connected devices. It can eliminate the internal cost and service upgrades. A user can secure the data with automated backup.
Electronic Data Interchange
EDI stands for Electronic data interchange. It has a standard interface for sending & Receiving bills of lading. This advanced pro EDI module provides an EDI system which allows connecting with Trading partners and EDI integration. It can export the raw EDI documents into the commerce portal which sends them to the trading partner. It can convert internal customer invoices into EDI invoices. The user can directly import & Export features for quick synchronization of EDI data. It supports X12, UCS, ANSI and VICS standards.  
Conclusion
AdvancePro is very easy to use. It provides excellent value for money. This is a user-friendly platform which gives outstanding customer support. AdvancePro is a fantastic platform for inventory management. They provide three plans like Essentials, Professional and Enterprise. You have to pay $85 for Essentials plan, $130 for Professional plan and $14,995 for Enterprise plan per Annual.