Do you want a platform to buy wireless devices? Then you should go for the UbiBot. UbiBot has a wide collection of Wireless sensors and external probes at affordable prices.
Click Here To Visit UbiBot
UbiBot is the leading provider of Smart IoT products and customer-oriented service in the world. The products of this company have elegant designs and are easy to use. This company gives you access to your IoT data whenever and wherever you want it. The products provide Wireless sync, global access, smart alerts, and unlimited storage. The wireless IoT sensors here provide an accurate monitoring environment that can be accessed through their UbiBot app or IoT portal. In this review, you will be getting information about the products, services, and prices.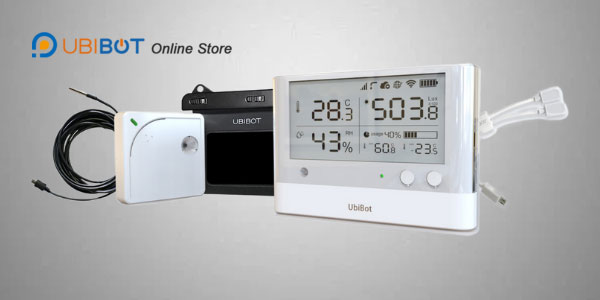 Why Select The UbiBot?
UbiBot IoT platform provides global connectivity so that you can control your devices and data from anywhere. This platform provides cloud storage and integrated sensor management for all your IoT devices. Get free shipping on all orders more than $89.99 to the USA, UK, Canada, and other countries, free worldwide shipping on orders more than $250. This company provides a return policy of 30 days and a 1-year limited warranty on the products. If you have any issues, the dedicated customer support team is available to solve them. To save money, buy the products in bundles.
Products Of UbiBot
UbiBot has a variety of wireless devices, sensors, and accessories. Some of the products are,
UbiBot WS 1 Pro – This device is a state-of-the-art environmental monitoring system that provides quick data visualization through LCD screens. It is battery-powered and can be placed anywhere.
Solar Cell Panel – It is equipped with a DC interface and can be used with GS1 to provide sufficient power for your device outdoors. It has high efficiency and environmental protection.
DS18B20 Probe – The temperature probe is made with stainless steel material and works with all IoT devices.
UbiBot Smart Plug – It is wifi enabled wireless controller to remotely control and schedule everything. With this plug, you can remote control other devices such as coffee machines, fans, and so on.
UbiBot Global SIM – The SIM is used for IoT devices that cover data in many countries. It is specially designed for ubiBot series devices.
Pricing Of UbiBot
UbiBot manufactures different types of Wireless devices that are available at affordable and discounted prices, such as Ubibot Global SIM starting at $4.99 USD, Ubibot Micro USB Splitter starting at $6.00 USD, Ubibot DS18B20 Temperature probe at a discounted price of $12.99 USD, Ubibot Smart Plug at a discounted price of $59.99 USD and check for more products.
Conclusion
UbiBot offers wireless environmental sensing products and smart user-oriented solutions. This platform provides alerts that notify you when the readings go out of range and can also create custom integrations and solutions using their open API. You can upload the data till you have storage available. You can also join the UbiBot developer membership that provides development kits that enable you to develop a secure, reliable, and easy-to-use private IoT platform. Check out the UbiBot reviews of the customers.