Here you have Transcribe Anywhere review. Transcribe Anywhere helps to build successful businesses which were affordable in all-inclusive education and lifetime support. They were aspiring transcriptionists. 
Click Here To Visit Transcribe Anywhere
Why Transcribe Anywhere?
The founder of Transcribe Anywhere is Janet Shaughnessy. She worked as a medical transcriptionist in 2007. After some years she formed her own company and launched her own successful online business. One of the biggest challenges is building her online business lack of qualified transcriptionists. The first course which is entitled was general transcription training. Later two courses were added which were legal and medical transcriptions. They were now available as downloads. The courses which were offered at transcribe anywhere presents e-learning platform that is comprehensive.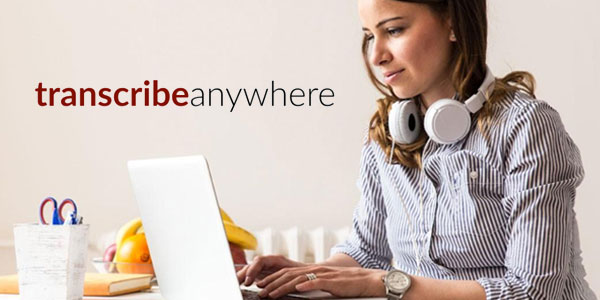 Courses
At transcribed anywhere four different types of courses were available such as Free general transcription mini-course, Free legal transcription Mini-course, General transcription course, and legal transcription course info. 
General Transcription
We know public transcription work is everywhere. All the companies out there want written content to be found by popular search engines. The video is trending, but words were what people are looking for. You will learn from the experts. Transcription is not for everyone. You must work harder because success doesn't come to you overnight. It takes time and dedication. Everyone must be ready to learn before they earn.
The general transcription includes everything. You have to know where to get the best deal on transcription equipment, Use expanders and shortcut keys , Transcription style guide plus downloadable templates, screencast tutorial videos on Software, time coding and more, You have to find work as an employee, By finding Higher paying job as an independent contractor, Seven levels of practice dictations, Lifetime access to all course materials and future updates. They provide a 100% guarantee that everything you need is to succeed. If you find anything is missing in this course, you can know about that particular issue.
You May Also Like
Premium Plans
Transcribe Anywhere is proud of offering students to pay for the course. Students can choose three methods according to their requirement. By picking plan one, you can learn the basics, punctuations knowledge necessary for transcription. You can get access to modules 1 and 2 for 30 days. Lifetime membership to the facebook group, Options to upgrade at any time, even after 30 days. You can upgrade to plan one at just $127.
By choosing plan two everything gets in the level one package and software video tutorials. You can get access to modules 1,2,3, and 4 for 60 days, a Lifetime membership is provided for a facebook group, Option to upgrade at any time after 60 days. Plan three is full of an intensive course. You get everything which is included in paln1 & 2. Build your market yourself as a transcriptionist. You get lifetime access to the entire course, Lifetime membership to the facebook group, Lifetime updates of materials, direct access to instructor and assistants, Know how to market effectively, final exam and certificate. By paying $597, you can get upgraded to plan three.  
Conclusion
Transcribeanywhere provides online courses like general transcription mini, Free legal transcription mini, and legal transcription course info.