Are you looking for beautiful Trending Jewelry and Accessories for women? Then you should go for The Songbird Collection. The Songbird Collection has a large collection of well-designed jewelry.
The Songbird Collection offers hand-picked jewelry designs that enhance your look. This platform offers jewelry such as Earrings, Necklaces, Bracelets, Body jewelry, hair accessories, and more. The jewelry is made with high-quality gold in different designs. You can shop according to the offered price ranges from the virtual Warehouse Sale. This platform provides a number of collections such as Bridal collection, vacation shop, Celestial collection, Festival Collection, Huggie and Stud earrings, Sale and Under $20. In this review, you will get information about the offered products and their prices.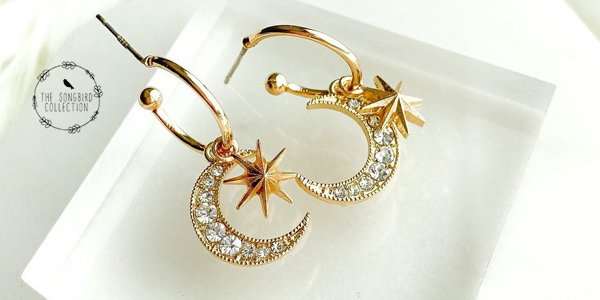 Why The Songbird Collection?
The Songbird Collection provides the facility to return the products within the first 14 days of purchase, and the product should be in unused condition. This company provides Free Standard ground shipping on orders of more than $25. You can sign up for them and receive a 10% discount on your first purchase. Use The Songbird Collection coupon codes to get discounts and offers. The customers can follow them on Instagram and Facebook to get new updates and sales information.
Products Of The Songbird Collection
The Songbird Collection has attractive jewelry and accessories. The following is the explanation of some products,
Necklaces – The Songbird necklaces are available in a variety of designs made with premium quality gold and silver. You can shop for the star design necklaces.
Bracelets – The bracelets are made with gold, rhinestones, and silver. The available designs are Cali beach waves cuff, Trois lines bracelet, Kira Kira rhinestone bracelet, and more.
Rings – The Songbird rings are gold-plated and made from 100% sterling silver and AAA+ grade cubic zirconia. The rings can be shopped for different sizes and designs.
Earrings – You can select from stylish and trendy designs that are offered. The earrings are made with sterling silver and gold plated. Some of the earrings are Moonlight whisper earrings, Birdwing Butterfly earrings, and more.
Hair Accessories – It offers Texted Hairpins, cupid hairpins, Rhinestone hair clips, Moondrops hairpins, Bunny ear headbands, and more.
Pricing Of The Songbird Collection
The Songbird Collection offers a beautiful collection of jewelry such as Pearlescent Ivory Earrings starting at $14.95. Buy the earrings at an affordable range of prices. Starlette layered necklaces at a $9 discount price and affordable price. You can check for further jewelry.
Conclusion
The Songbird Collection sells beautifully crafted jewelry and hair accessories for Women. You can shop for the designs of jewelry as you want as there are a number of well-crafted designs available. This company is an ideal choice to give the jewelry to your family and friends as a Gift. Here you can shop for the Face gems and tattoos. The customer can check The Songbird Collection Reviews for satisfaction to buy the products.