Read the latest Supermetrics review. Supermetrics is started from a Google T-shirt. During 2009 Google has released the Google API analytics. The founder of Supermetrics is Mikael felt. Supermetrics mission was to help marketers to analyze better reports by monitoring their data. It is a super team who are passionate about bringing marketers peace of mind.
Click Here To Visit Supermetrics
This company door is opened for top talents anytime. Supermetrics connects to Millions of data points from Advertising & Social networks. The global system of customer visualizes by reporting applications. Supermetrics offers less reporting and more analysis. The user can customize reports by getting any metrics.
Why Supermetrics?
Supermetrics offers less reporting & More analysis for the customers. They pull all your metrics at one place. It is best-in-class by using Google Analytics, Google ads, Facebook, Bing, Linkedin, and other multi-platforms. You can save time by automating the manual work. It won't be needed to copy or import CSV files. Individuals can customize their own reports. A user can get any metrics by combining any dimensions and visualizing.
Supermetrics for Google Data Studio
Google data studio pulls all your marketing data directly. It has gained 300,000 plus top marketers trust from Supermetrics. This company also provides 14-days free trial. Some of the top features of Google data studio like they provide Best-of-breed integrations, Cross-platform reporting, and Ready-made templates. Various features which were enlisted such as it has unique data from every marketing platform, Just connect to Payment platforms, Email Marketing, Social, analytics, SEO and PPC.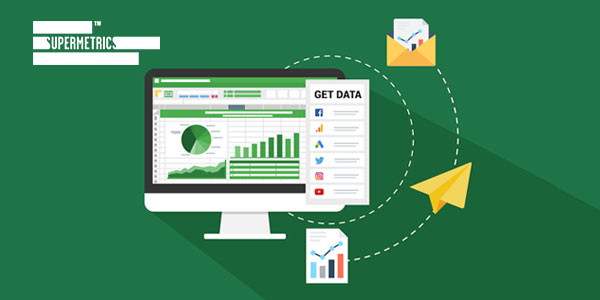 In case if any customer can't be able to find any integration, This company builds for you according to your provided specifications. It also supports cross-platform reporting when compared with Google ads, Facebook, Instagram, Twitter, Linkedin, and Bing campaigns. You can import CSV files by automated reporting and data gathering. The customer can get ready-made templates. By using these templates, you can create marketing reports in seconds. Professionals designed all these templates. These templates were used for PPC, SEO, Analytics and many more. People can easily customize there own brand.
You May Also Like
Supermetrics Uploader
Supermetrics Uploader provides Cost & ROI for all your advertising in google analytics. It automatically uploads the advertising cost of data from any source of google analytics. Features of Supermetrics uploader such as it set it up with just a few clicks, Schedule automatic daily upload from Facebook, Bing or Yahoo Gemini and Upload CSV files from other advertising networks.
Supermetrics For Google Data Studio Pricing
Supermetrics for google data studio plans were classified into four different types like Hobby, individual connector, pro, and Superpro plans. An individual connector, Pro and Superpro user get unlimited access to a number of reports. You can add data sources like ad data, Adroll, adobe analytics, Adform, Amazon, Google ad manager, Google display & Video 360 and Instagram Insights. A super pro user can add 100 Ad accounts per ad network. You have to pay $19 for individual connector plan, $99 for a pro plan and $299 for super pro plan.
Supermetrics Uploader Pricing
Supermetrics uploader advertises ROI and costs in google analytics. A user can upload Bing ads, Facebook ads and yahoo Gemini ads simultaneously. You can upload five ads daily by paying $39 per month, 20 daily uploads for $79 per month and $179 for 200 daily uploads.