Read the latest Sixthreezero Review. During our childhood, learning and riding a bicycle gives us joy and fun. It is our favorite hobby. When we are little runts, we ride around our friends & neighborhoods. Do you have any special memories? If yes, let us hear from you. Are you searching for the best beach bicycle then, Sixthreezero is the top-notch platform where you can find all different types of cruiser bicycles at affordable prices.
In the year of 2005, Sixthreezero bicycle company formed. They have begun selling all the newest modest Hermosa beach garage. All the cruiser bicycles are so comfortable, durable, and reliable. By owing these bicycles, you will get fun & quality bikes for your Life-time.
How to Pick the Right Bike?
Nowadays, choosing the right bike is not an easy task as it seems. On-day -to-day bases, we can spot a wide variety of bikes. Each bike has a different sort of specifications and Accessories. It's so challenging to pick the right bicycle. Each model has its advantages and limitations.
Different Types of Bicycles?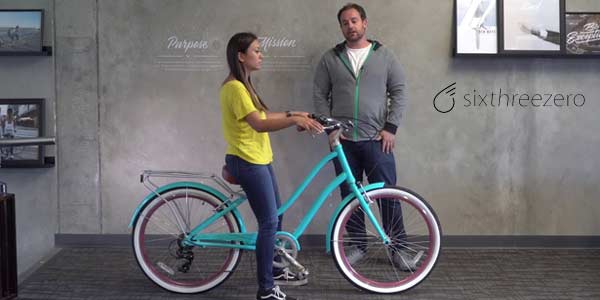 Don't underestimate any bicycles because each type of bike is meant to perform well in a particular segment. Some bikes are ideal for riding, and others were not suitable for competitive fitness. Generally, bikes designed for racing or riding are too harsh. You can ride then on mountainous terrain. Below we are going to list "4" different bicycles.
Cruisers
Cruisers are also known as beach cruisers. These types of cruises are best for riding on the paved roads. They entirely built for stability and comfort. The individuals can ride them at low speeds for short distances. The best thing about Cruiser is it tends to be inexpensive.
Comfort Bikes
Comfort Bikes are capable of traveling long distances at higher speeds. These bikes are ideal for riding upon paved roads. The comfort bikes feature upright handlebars, coaster brakes, and wide tires. Mostly, comfort bikes are great for commuting to work in the city, paved roads, bike trails, people having back problems, and who wants to lose their weight.
Road Bikes  
Road bikes are known as the fastest type of bike. Road bikes mostly preferred by experienced cyclists who ride on paved roads. The road bikes are lightweight, runs smoothly comes with hand brakes.
Hybrid Bikes
Hybrid bikes are high-speed, low stability bikes. They meet your higher level of physical fitness than a cruiser bike. All the hybrid bikes feature disc brakes, sport saddles and have slightly wider tires. In this Sixthreezero Review, we mentioned various bicycles.           
Products at Sixthreezero 
Electric bikes

Hybrid bikes

Cruiser bikes

Comfort

Commuter

Tricycles

Fat Tire

Accessories
Pricing of Sixthreezero
At Sixthreezero, You can find a unique range of bikes at reasonable prices. You need to pay $449.99 for Hybrid bikes, $439 for Cruiser, $329 for Comfort bikes, $399 for Commuter bikes, $599 for Tricycle, $55 for baskets, $29.95 for Sunlite car rack crossbar and adapter. Finally, we covered everything upon bicycles in this Sixthreezero Review.