Have you ever heard about a tool that helps you to get the highest converting Shopify themes and offers you the best conversion training?  Well, Shoptimized has been proved to be one of the best tools which make sure to take the best care of your online business. 
If you want to turn clicks into sales, it is essential for you to do a comprehensive search in terms of your business strategy. We know how hard it is to analyze the online marketing strategy. Also, online business has become widely popular, but if you look at the competition, it is immeasurable.
Click Here To Visit Shoptimized Theme
Every online marketer is looking forward to trying an experiment with the latest and best product. But how do they get to know which product is working for them or which is not? Without analyzing you can't proceed further. You need in-depth information to maintain your reputation in the business. It has also happened a lot of times that one with the best product and stores in the market, fail to achieve success. This is mostly because of the templates and low page-load.  
To make sure you get your business statistics on the right place, Shoptimized is the best for you. The tool has become widely popular due to the competition in the market. Now let Shoptimized analyze your marketing information so that you can focus on other crucial related stuff related to digital marketing. We will discuss the products and pricing of Shoptimized products. 
Why Shoptimized Themes?
It is usual that if you are dealing with online products and stores, you need the best templates and themes. You need unique templates and themes to stand out in the market. To this, Shoptimized themes ensure that you get friendly and responsive templates. You get lightning-fast load time to improve your search engine results.
Let us look at the features Shoptimized themes offers
The only Shopify Theme that is built for mobile-first.

You get over 4000 customization options depending on your brand and product selection

You also get a lifetime license and free updates for 12 months.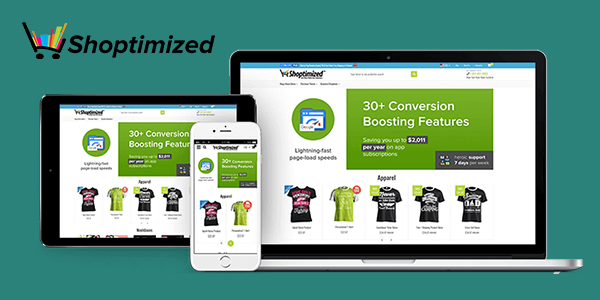 Pricing
There are three different pricing plans which come with Shoptimized. This includes the basic, Pro and the Ultimate.
For the basic one, you will get the one-store license, for the pro plan you will get three store licenses, and the ultimate one will get you more than ten store licenses.
Additional features for pro and Ultimate include
Free Access to 7-Figure Store Blueprint Shopify Training

Easy Access to FB Ascension Formula Facebook Training
Speed boost Ninja
Now improve your page-load speed with SpeedBoost Ninja. You might have noticed sometimes that your website is taking time to load. SpeedBoost Ninja makes sure that you get four times faster page-load. This helps the business in better search rankings. You can install the app, and with a click, you will be able to see the desired results.
Speed boost Ninja Features
 With the fast speed, Speed boost Ninja helps with cheaper CPMs and CPC's on your paid ads.

Works best with the top Shopify themes.

Get the best conversion rate for your store.
Pricing & Plans
You can look for a money-back guarantee within 14 days. So if you don't like the service, look for the refund. You need to pay $27 monthly if you want to boost your online business.
eCom Conversion
E-Commerce is a vast platform where you earn huge. With the competition in the market, you need to be unique and use the best analysis to grow your market. eCom Conversion is the tool you need to get more profit from the visitor who comes to your site.
If you start getting profit, your paid ads become significantly more profitable.  The tool is responsible for increasing your sales and turning your visitors to buyers.
Features of eCom Conversion
With the tool, you get to know why your strategy is not working

Assure to make changes of a business plan if not rightly executed

30-day money-back guarantee
Pricing
If you are purchasing the product today, you will be charged $1497. The original pricing of eCom Conversion is $2997. The payment is easy and secure. You need to provide your name, email id, location and address before going to the payment process. 
7-Figure Store Blueprint
If you are a newbie or want to experience e-commerce and Shopify platform, 7-Figure Store Blueprint is highly recommendable for you. The tool ensures that you get the best setup process for your business.  Setting up the store the right way can help your business to get maximum chances in producing the best result. 7-Figure Store Blueprint is also recommended to those who want to give fierce competition to big top online companies.
7-Figure Store Blueprint features
You get multiple lines of products and stores to offer

The tool makes sure that you get products which are the best in the market.

You get customization options available that let you design the website in your way

It helps in eliminating hours of expensive developer customization.
Pricing and plans
The pricing and plans are much less than compared to the features it offers. You can get 7-Figure Store Blueprint at just $997. You can have a product for 30 days, and if in-case you are not happy with the services, make sure to look for money back guarantee.
Email Marketing Masterclass
As an online marketer, we look for something which helps us to generate more revenues. One of the best strategies to boost revenue for your online business is Email Marketing. Now not only improve your email marketing campaign but also make sure that you get a reply on the emails you are sending
With the Email marketing Masterclass course, you will learn the craft on how to deal with e-commerce email marketing. You also get pre-designed templates to make your promotion look the best
Features of Email marketing Masterclass
Send emails which makes buyer into lifelong customers

Make sure you get the best response on your promotional emails.

Know what not to do while sending emails to your clients
Pricing
The payment is easy and secure. The price for Email marketing Masterclass will be $37 only. With the best price, you get the top-class courses to generate revenue for your business.
One Hour Conversion Boost
Want to know where your marketing strategy is not going right? Want to know how to convert your visitors to potential customers? Well then, One Hour Conversion Boost is the best for you. Not only it has been proved to offer you the best session, but you can also have access to it even if you're offline. Bradley is well-known for the marketing strategy, especially when it comes to conversions of the user.
One Hour Conversion Boost Features
You get live interaction, and genuine review for your sales funnel

With the Analytics X-ray, you get to know where your business stands in terms of revenue

Recorded video from the consultation
Pricing and plans
There are three different pricing options you can look for which is Express 30 (30 minutes), Professional 60 (one hour) and Premium 120 (2 hours).
The Premium 120 will charge you $1197; Professional 60 comes at just $697 and express 30 is for $497. You get secure shipping and returns on the product. If you are not satisfied with the product, you can look for a money back guarantee within 30.
UpliftHero App
If you want to sell more products to your customers, UpliftHero App is the best for you. It helps in placing the top-selling product near to your cart option, which enhances the buying process of the consumer. The app makes sure that you get a secure and easy checkout with free delivery option.
Pricing
You need to pay $27 to get the best services for your business. The payment is, and you can also look for a 14-day free trial to know whether the app suits best for you or not.
Final Thought
Shoptimized is the best tool when it comes to handling your business online. You get the best products which play a vital role to improve your business strategy. The tools will help you in getting the top-quality theme which works best on mobile phones and desktop. Shoptimized also offers an opportunity to make the best revenue from your stores and product. You can also follow them on Twitter, Facebook to get the latest updates and information.