Read the latest Save Lands Review. Save Lands is a company that sells shirts that are eco-friendly and help plant trees to save the environment. On average, 80,000 acres of field forests destroyed every day. The unique thing about Save Lands is they were planting 12 trees for every item sold. Whenever you purchase Save Lands, you are automatically saving a few trees.
A significant goal of Save Lands is to giving back to earth. This organization fights against pollution. We knew that planting trees is great for preserving a healthy environment. Save Land's aim is to lift a billion people out of poverty.
Why Save Lands?
Save Lands committed to providing quality customer services to its customers. In case if you are not satisfied with the product, they will gladly exchange items that are damaged. The consumers can reach out via email. Within "7" days, your item will be replaced for sure. You have to remember that 20% of restocking fee will be applied. All the refunds will be credited to the store.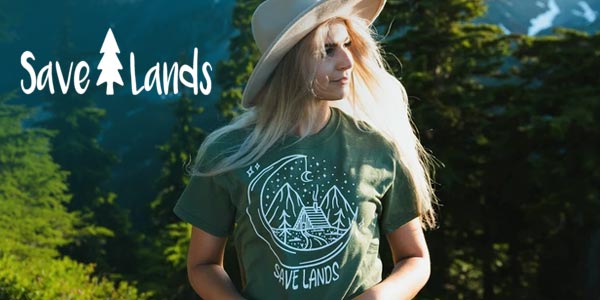 When the customer places an order, they will receive a tracking number to track their specific product. Save Lands also ship worldwide. You can also update the required information if you relocated newly. 
Which Types of Trees DO Save Lands Plant?
Save Lands company grows a wide variety of fast-growing trees, fruit trees, and hardwoods. They plant different multi-purpose growing trees like Acacia Angustissima, Acacia Mellifera, Acacia Nilotica, Acacia Senegal, Albizia lebbeck, Albizia Schimperianna including Albizia lebbeck. 
What's Unique about Save Lands?
Every item is hand-printed and shipped by pro-American craftsmen

They design products that were comfortable to wear

Save Lands items come with a classic fit

All items are printed & shipped from the United States

You can choose all different sizes [S, M, L, XL &2XL]

Get free shipping & Delivery on all U.S orders

Save Lands customer care service is always ready to help you at anytime

 24/7 live chat and assistance

Accepts free returns & exchanges

All ordered products shipped in biodegradable packaging
Products at Save Lands
Tees

Tie-Dye Collection

Hoodies

Long Sleeves

Crewnecks

Jackets

Sale Section

Catalog

Men

Tank Tops

Reusable Tote Bags

Jewelry

Face Masks
Pricing of Save Lands
Savelands always strive to design cruelty-free. Every product manufactured at savelands is eco-friendly, sustainable, and Ethically made. You need to pay $24.99 for Bee Happy Tee, $49.99 for women's hoodies, $39.99 for vegan girls crewneck sweatshirts, $54.99 for outerwear, $28.99 Tank tops and $24.99 for Bee happy Tote bag. Finally, these are our thoughts upon Savelands Review.