Are you looking for a store to buy towels, blankets, and home decor essentials? Then Olive and Linen is the ideal selection for your needs. Olive and Linen have high-quality towels for various purposes.
Olive and Linen offers a large collection of the finest Turkish towels, bath mats, bathrobes, shower curtains, table runners, and Decorative pillow covers. You can buy the best premium Turkish towels. This source has a well-designed collection of terry looped and flat-woven Turkish towels. Every product is made with 100% long-staple Turkish cotton, free from harmful chemicals. Their aim is to provide the customers with ethically made and sustainably sourced products at affordable prices.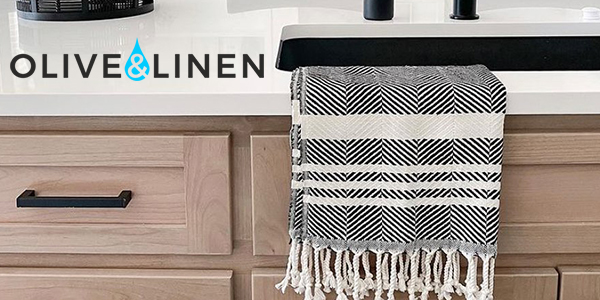 Why Olive and Linen?
Olive and Linen's products are handwoven on manual looms by professional artisans from turkey. This platform provides Free US shipping for orders more than $50. Get a $6 flat rate under $50. The customer can save 30% by subscribing to Olive and Linen. For more offers and discounts, you can use Olive and Linen coupon codes.
Products Of Olive and Linen
Olive and Linen provides high-quality towels, blankets, pillow covers, shower curtains and more. Some of the products are,
Allez Table runner – It is very soft, durable, and highly – absorbent. It is free from harmful chemicals.
Olive and Linen Bliss towel robe – It features a smooth flat weave front and plush terry loopback. It is lightweight, naturally soft, and comfortable. It has a hood and functional pockets.
Lola Turkish blanket – It is suitable for a king or queen size bed. It is made of 100% long-staple premium Turkish cotton.
Aztec Turkish towel/throw – This towel or throw is breathable and luxurious. It has 2 ply gauze construction forms and a soft texture naturally.
Olive and Linen Shower curtains – This curtain is handwoven from high-quality cotton fibers. It includes 12 reinforced holes to place curtain rings in it.
Cloud soft throw pillow cover SQ – This pillow cover is made with high long-staple Turkish cotton. It features a zipper closure for easy use. It is very soft and cozy.
Pricing Of Olive and Linen
Get Harlow Turkish towel/throw at $32 USD, Luna robe cover-up at $120 USD, Dash Turkish towel robe at $99 USD, Olive, and Linen Bath Mat at $39.99 USD, Pixel shower curtain at $68 USD, Elements Turkish towel set at $44.99 USD, Allora throw pillow cover SQ at $23.99 USD and Allez table runner at $32 USD.
Conclusion
Olive and Linen is a home textile company that has handmade products such as towels, table runners, kitchen towels, bathrobes, pillow covers, shower curtains, and more. Here premium fabrics and weaving techniques are used that results in Naturally soft, long-lasting, and durable products. You can look at the Olive and Linen reviews of customers.