In the highly technological world today, wallets have undergone massive changes. In order to keep transactions safe and secure, new products are introduced with increased inventions.
In the categories of wallets, 100% air-gapped Keystone hardware wallets play a prominent role, ensuring smooth transactions in maintaining the cryptocurrencies. An offline device that helps protect your digital assets, it's secure to the core as one cannot take data from it. Bracing almost 9 coins and ETN and TRON tokens, Keystone hardware wallets are among the most popular in the Bitcoin and Cryptocurrency world.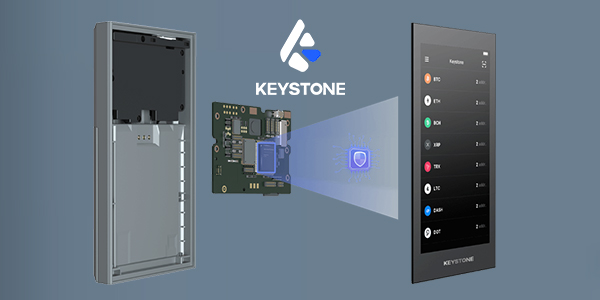 Why Keystone hardware wallets?
Various features ascertain the reason for Keystone wallets being preferred by users. Let's explore the features that make this product so different.
Secure transactions
The Keystone wallet helps secure financial transactions with its features of a full preview of information visible on screen, AWS CloudHSM, a security module, and web authentication that helps avoid attacks on the wallet.
Easy To Use
Keystone wallets are extremely easy to operate. Built with user-friendly features to avoid "Blind Signing" and access to private keys, these wallets certainly give a tough time to hackers in accomplishing their aims.
Verifying transmissions
With the help of transparent QR codes, Keystone wallets provide you with the advantage of verifying incoming and outgoing transmissions.
Unique aspects of Keystone Hardware Wallets
The Keystone wallets have a variety of aspects that places them in a different category from the rest.
Self Destruct Mechanism
One of the most vital security aspects of Keystone wallets is the presence of the self-destruct mechanism. This particular feature tends to remove the private keys from the wallet in case an attack is suspected. With this, information from the wallet does not leak.
Easy to carry
The wallets do not require steady voltage; hence they are easily carried to public places. Users find it easy to use these wallets. Moreover, using the product at various locations ensures that surveillance cameras do not steal your wallet passwords.
Rechargeable Battery
Keystone hardware wallets have AAA batteries that can easily recharge. Hence, battery failure is certainly not an issue. Also, detachable batteries help avoid corrosion damage.
Pricing
The Keystone tablet is a stainless steel and waterproof instrument that works with any hardware or software wallet with its remarkable security features. There are various models with different aspects and pricing that starters from $24 and go upto $169. Like the most upgraded model, Keystone pro also has the inclusive fingerprint security option in it.
Conclusion
With such strong security elements in place, Designed with a secure element, Keystone Hardware Wallets are undoubtedly the most advanced and secured wallets for your bitcoin and cryptocurrencies. Keystone wallets are the need of the hour!