Hair loss is one of the very serious issues in many people's lives. Proper hair treatment is crucial to overcome hair loss damage and grow the lost hair completely. iRestore provides laser hair growth systems with clinically proven laser technology.
iRestore is a laser therapy clinic that uses low-level laser technology for complete hair loss treatment. It has a huge variety of products available for any type of hair loss. All the laser machines are clinically tested for complete customer safety and easy results.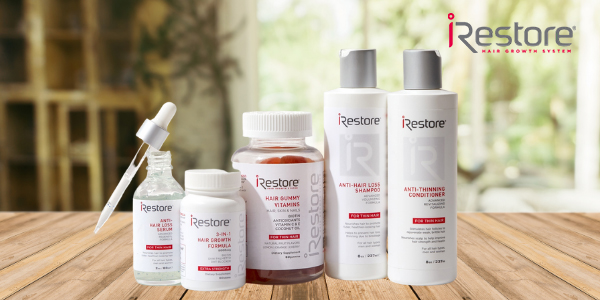 Why choose iRestore?
iRestore provides highly advanced laser hair growth treatment with an FDA-cleared system. The products are very safe and easy to use and can be used by both men and women. It has a laser hair treatment system inbuilt with medical-grade lasers and LEDs. Many experts have recommended iRestore for at-home low-level laser light therapy devices.
Products at iRestore
Here you will find two types of laser hair growth treatment devices essential and professional with various hair care solutions
iRestore Professional
iRestore professional is the advanced FDA-cleared laser treatment for hair loss and thinning. It is equipped with 282 lasers and LEDs that produce more power and light than any other laser hair treatment device. The visible results and fuller hair can be seen in 3-6 months from the usage.
iRestore Essential
iRestore essential is the modern, comfortable, and easy-to-use device. This iRestore laser hair growth system targets the most common thinning and balding areas with 51 medical-grade lasers and LEDs. It is one of the top home used laser devices for hair growth treatment. You can check the iRestore before and after the album on the website for more information.
Anti-hair Loss Serum
iRestore anti-hair loss serum is clinically proven and helps to nourish follicles and boost regrowth. It has a special redensyl complex that helps in increasing cell activity and promotes thick growth.
Anti-thinning conditioner
iRestore anti-thinning conditioner is a lightweight conditioner that helps to strengthen follicles and restore hair health. It is infused with biotin, argan oil, and other essential ingredients. This conditioner helps in moisturizing the dry scalp and repairs damaged hair.
Pricing at iRestore
iRestore provides the latest technology laser hair treatment devices at affordable and discounted prices. The iRestore essential is one of the most commonly used hair treatment devices for most men and women with pattern baldness. It costs $695 for the device and $755 for the complete kit. iRestore professional device is available at $1195.
Max care bundle is available at the discounted price of $79.99, and 3-in-1 hair growth formula is available at $29.99. Anti-thinning conditioner and anti-hair fall shampoo are at just $24.99. A professional and essential battery pack is available at $79.99.
Conclusion
iRestore is an online platform that provides a huge variety of hair care products with laser devices for complete hair loss treatment. It has clinically tested and highly advanced laser devices that help prevent hair loss and helps in regrowth. All the products provided by the iRestore are safe for both males and females.