Read the latest DMC watches review. DMC watches created by DeLorean motor company. It has designed iconic DMC-12 car is considered as one of the most spectacular sports cars for all time. This company rolled off the assembly line in 1981.
Click Here To Visit DMC Watches
It features a stunning design regarding their distinct shape, stainless steel body, and gull-wing doors. Follow our DMC Watches Review for complete information.
Why DMC Watches?
DMC house is the most extensive inventory for DeLorean parts across the globe. They also sell refurbished DMC-12 vehicles. Recently, this company is working with a new DeLorean car. This company also sells DMC alpha, 1981 and live the dream collection watches.
Live the Dream Collection
Live the dream collection watches are classified into three different types such as The dream steel, the dream advance and the dream classic. This dream steel watch comes with DMC dial. It can combine various design elements for an iconic vintage car. These horizontal stripes were inspired by DeLorean grille which displays in the speedometer style. These watches are available in three different colors like white, red and black. Generally, This watch is supercharged. It comes with a sleek metal structure of the bracelet. It pairs with a sturdy steel case. They have also added a butterfly clasp for extra security.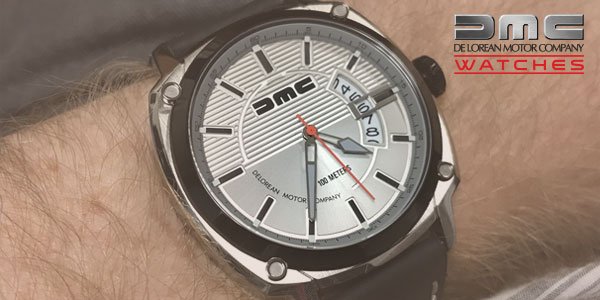 These watches can withstand harsh environmental conditions. Some of the features of dream watches such as it come with Japanese Miyota movement, stainless steel case, case size is 49mm, 50 meters water-resistant, Light silver dial with silver subdial at 6H, Hardened mineral crystal & stainless steel is brushed silver strap with butterfly clasp. This company also provides an official 1year warranty. You have to pay $134.98 for the dream steel, $119.99 for the dream advance and $119.99 for the dream classic.
Alpha DMC Silver
Alpha DMC watch is an engraving of DeLorean car. This is a fashionable and practical watch. It includes shiny accents of the center hands and indexes. You can even find a wide date window. It can even protect the face of the watch. Some of the features which are enlisted of alpha DMC silver as it comes with a stainless steel case with IP black bezel, 44m of case size, 100meters water-resistant, Light grey dial with date at 3H, hardened mineral crystal and Japanese Miyota 2315 movement. They also provide one year warranty upon the product. This Alpha DMC black is priced at USD 149.99, USD 144.99 for Alpha DMC blue and USD 149.99 for Alpha DMC silver.
You May Also Like
Bristol Aviator Watches Review
1981 Chronograph Collection
These 1981 chronograph collection products are classified into two types such as 1981 black chronograph and 1981 silver chronograph. This watch is lined up with a brand new 1981 chronograph collection. It comes with 42mm stainless steel case which is equipped with duo chronograph. This dial of the watch tells you everything. At the center of the watch, it is coated with black or silver. The subdial records the chronograph while it's running. Twenty-four hours dial is located in the midsection.
These new DMC 1981 chronograph offers two different bands which keep your watch secure and comfortable. These watches are strapped with classic black leather. All the watches which are available at DMC are affordable to everyone.  The features of 1981 chronograph watch such as it is a Japanese Miyota movement, Case size id 42mm, 50 meters water-resistant, Black dial with a date window at 4H and stopwatch minutes at the sub-dial at 9H. A user has to pay $129.99 for 1981 black chronograph and $129.99 for a silver chronograph.